Graphics and signage at Cisco's beautiful B15 campus in Bengaluru
When we began our engagement with Cisco, the first assignment was the campus graphics and signage for B15, a building in their iconic Bangalore campus. We would go on to design brand graphics for over 4 million SFT of Cisco in India.
Cisco, a powerhouse of innovation is also a lesson in building relationships. This company implicitly trusts its partners for the long-term. We were to become custodians of this trust over the entire graphics and signage journey for the campuses of Cisco.
A 3-month long exercise in collaboration with the global brand team members helped ensure that all graphics and signages were in sync with global brand guidelines. We also worked closely with RSP Design Consultants to ensure that the brand graphics blended into the interior scheme.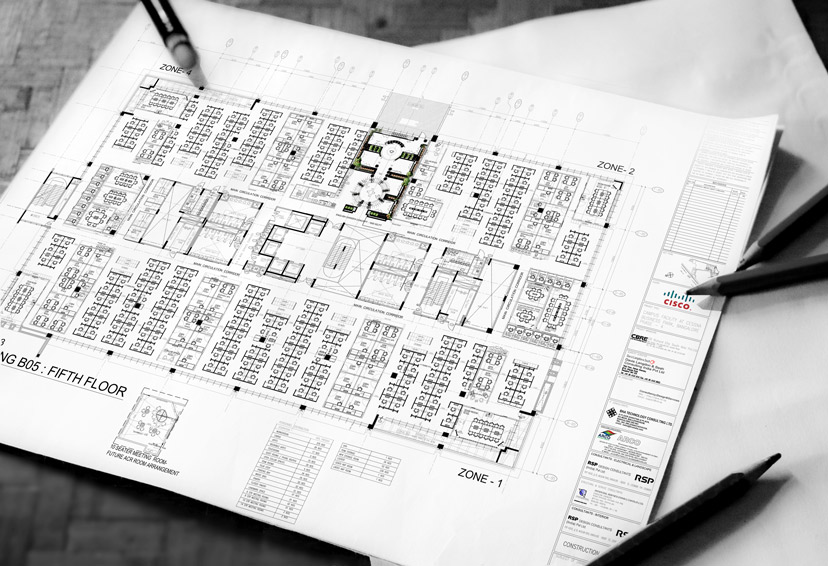 The primary strategy was to use engaging photography in line with global guidelines. We commissioned renowned photographer, Senthil to create a master library of over 200 photos. Apart from this, we created strategies that will ensure that the Creativity Zones in each building establish themselves as unique spaces to collaborate.
Graphics and signage across 4 million SFT
We created detailed playbooks for each building including bound tender and GFC documents. This helped establish scalable processes for the long journey ahead.
Creativity Zones in each building served like oases for the people of Cisco to come together and collaborate.
Photography bank for graphics and signage
Scalable asset strategy used in over 3 million SFT of Cisco offices in India with flawless execution by multiple partners. The campus saw a wide acceptance from users, along with wide appreciation from management, architects, project managers and other stakeholders.