Creating a unique and 'happy' healthcare experience for each patient for Care.fit
Care.fit is part of the illustrious and disruptive Cure.fit group that has revolutionised healthcare in India. Care.fit wanted to create a healthcare experience for patients unlike any other. We were happy to oblige.
1. How to create a medical centre that does not look like a traditional medical centre? 
2. How to identify decades old deep-rooted medical industry problems with clinics and hospitals and eradicate them from a new-age space?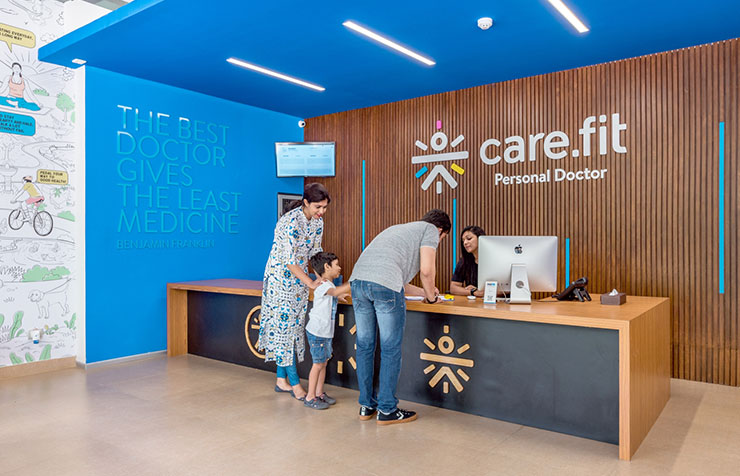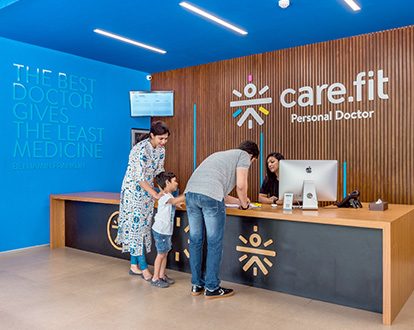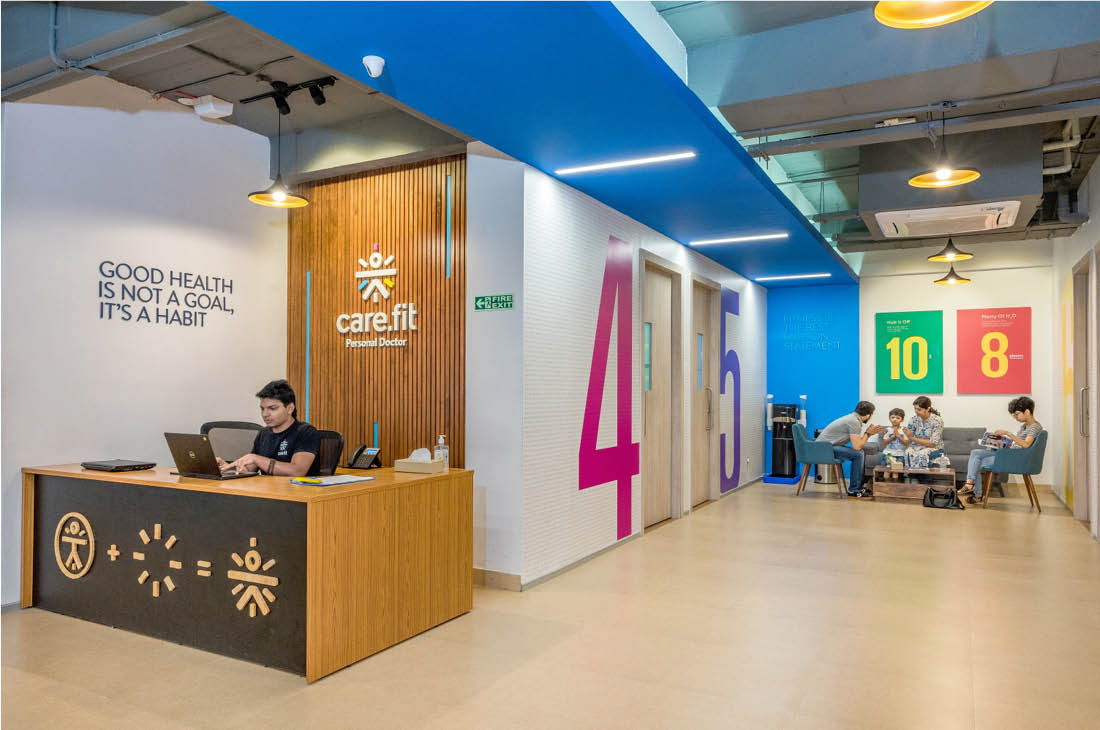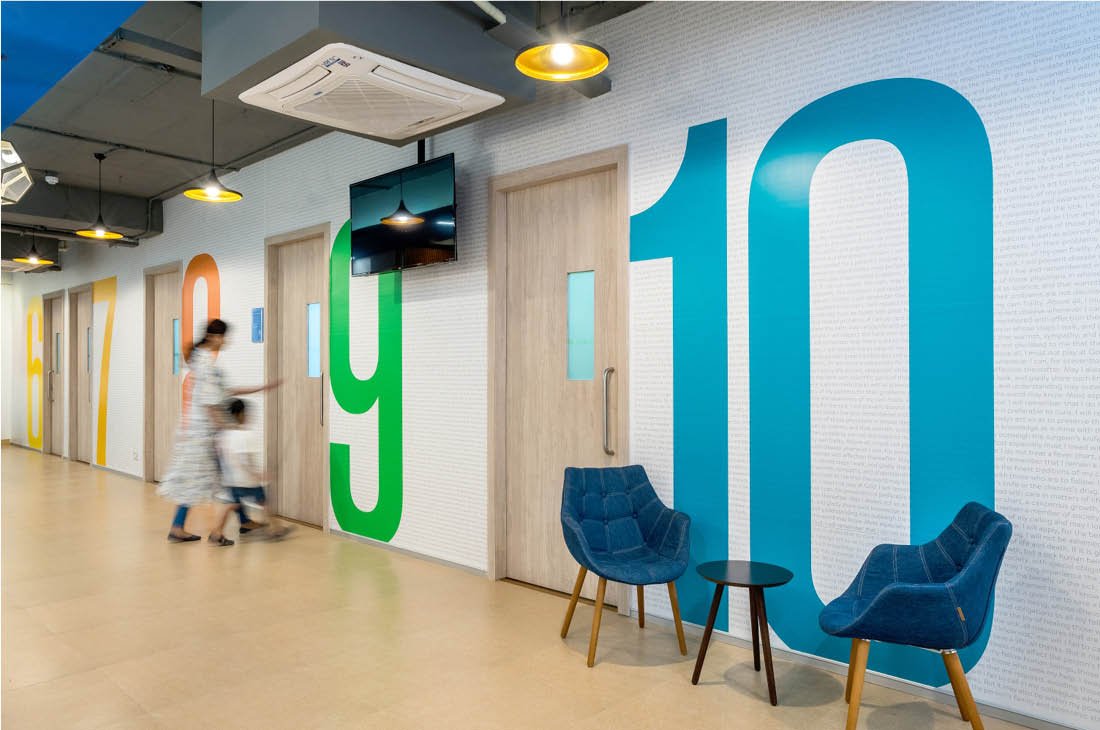 From an industry perspective, the challenges were: 
1. How do we ensure that we create a medical centre that does not look like a medical centre? 
2. How do we battle a centuries old perception that hospitals and clinics are a scary place? 
3. How do we create a hassle-free and smooth customer journey that ensures the best possible experience?
Traditionally, since time immemorial, a hospital or a clinic is a place where one goes with fear and apprehension. The medical industry has never done anything to change this emotion amongst patients. 
From the perspective of the brand, the challenges were: 
1. How do we create a space that inspires trust ?
2. How do we create a space that balances credibility and freshness all in one? 
3. How to incorporate the parent brand's philosophy within the content and art for the space? 
4. How to ensure that the design reflects the brand's existing powerful visual language but still has the merit to stand out on its own for Care.fit. 
It was interesting to work with these unique set of challenges, addressing them and then solving them eventually.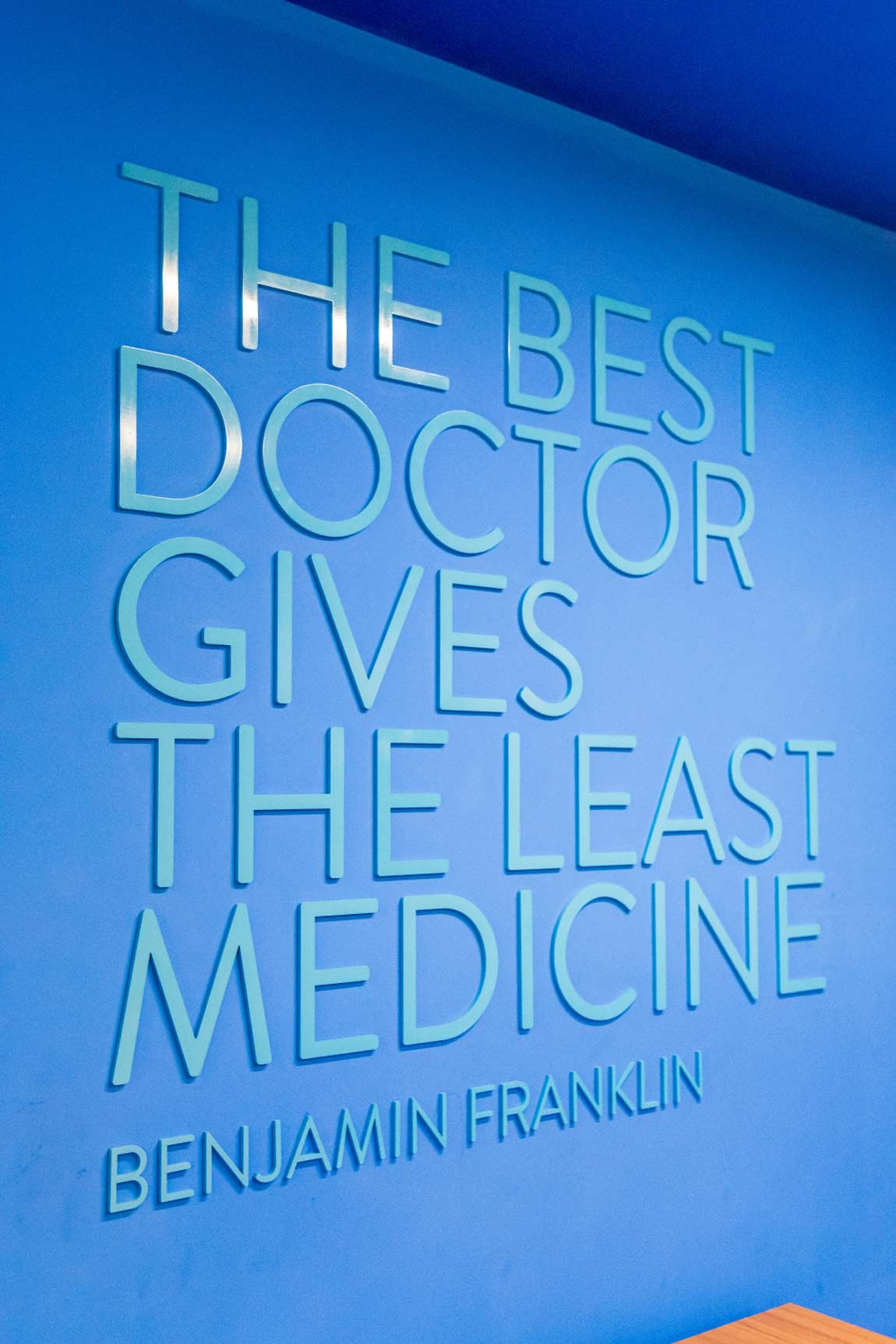 1. Interviews with a diverse user base across all ages 
2. Visits to medical centres across the city 
3. To create a medical centre that looked like a modern day office space. 
4. Consciously stay away from unsavoury visuals and scare tactics 
5. Infuse some humour into the space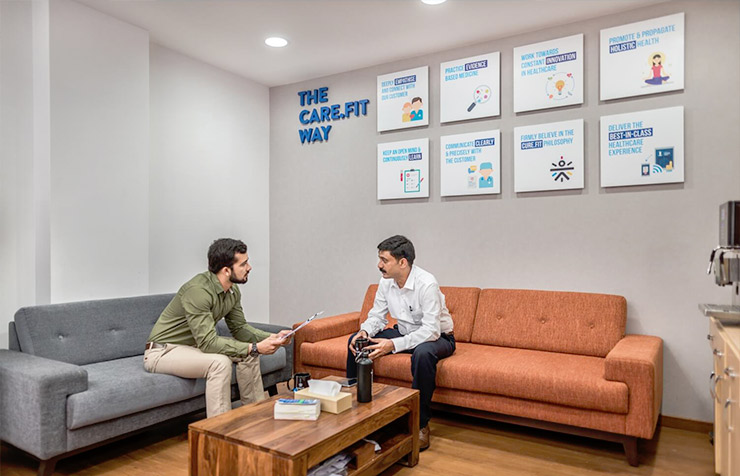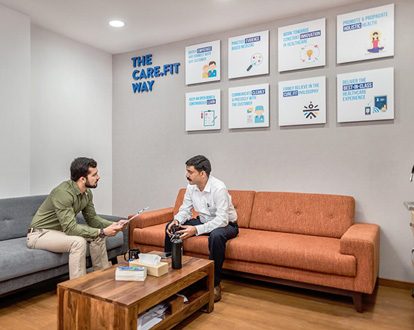 Our research revolved around: 
1. What kind of experience do patients require from clinics and medical centres these days? 
2. What are the different kinds of experience disasters faced by patients of all ages on a regular basis? 
3. What are the kind of places that inspire trust in patient's minds? 
Our benchmarking revolved around: 
1. Who are the top deliverers of patient experience in India and abroad? 
2. What are some of the best practices of industries like hospitality that can be used to deliver a great experience even in this domain? 
1. Mapping the entire customer journey into experience touchpoints 
2. Designing interventions for each touchpoint 
3. Illustrations, graphics design, content strategy and wayfinding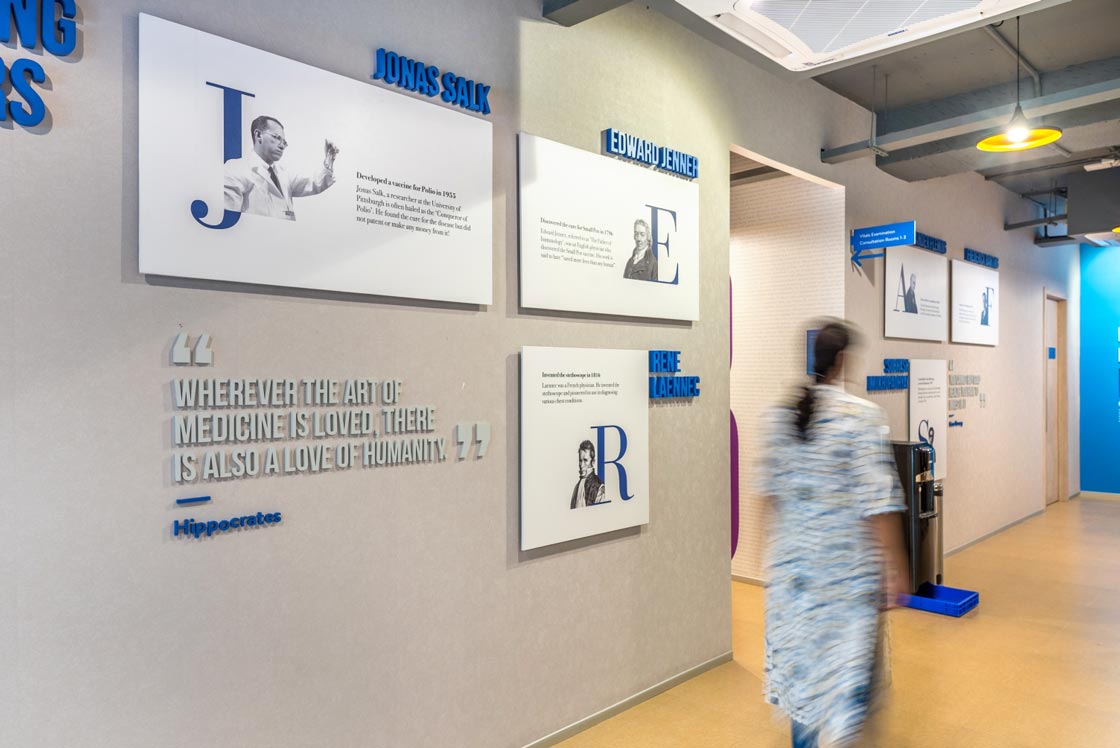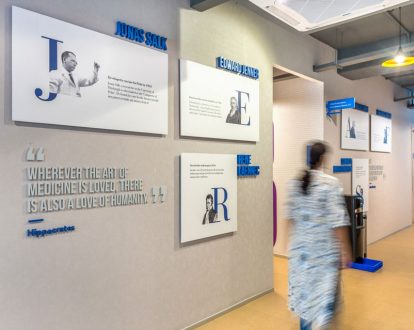 How does one get started with a project is often a challenge in itself that does take some time and experience to crack. Every project is different. Here, we looked at the plans of the space and sketched out the reception and other areas, The total area was then divided so that decisions could be taken with ease.  Needless to say it did get the ball rolling and how! 
Understanding the space and how it was going to be used was key to getting us started with the process of idea generation
First impressions are important for any brand. First interactions, first visits, first purchase and so on are all important touch-points in the experience design of any brand. Our thought process for the entrance facade was: 
1. How does one make sure that it conveys that the space is a medical centre?
2. How does one ensure that it looks inviting, fun and out of the ordinary? 
"Most medical centers have reception areas with uncomfortable furniture, not enough place to sit and scary posters of diseases" – One of our research candidates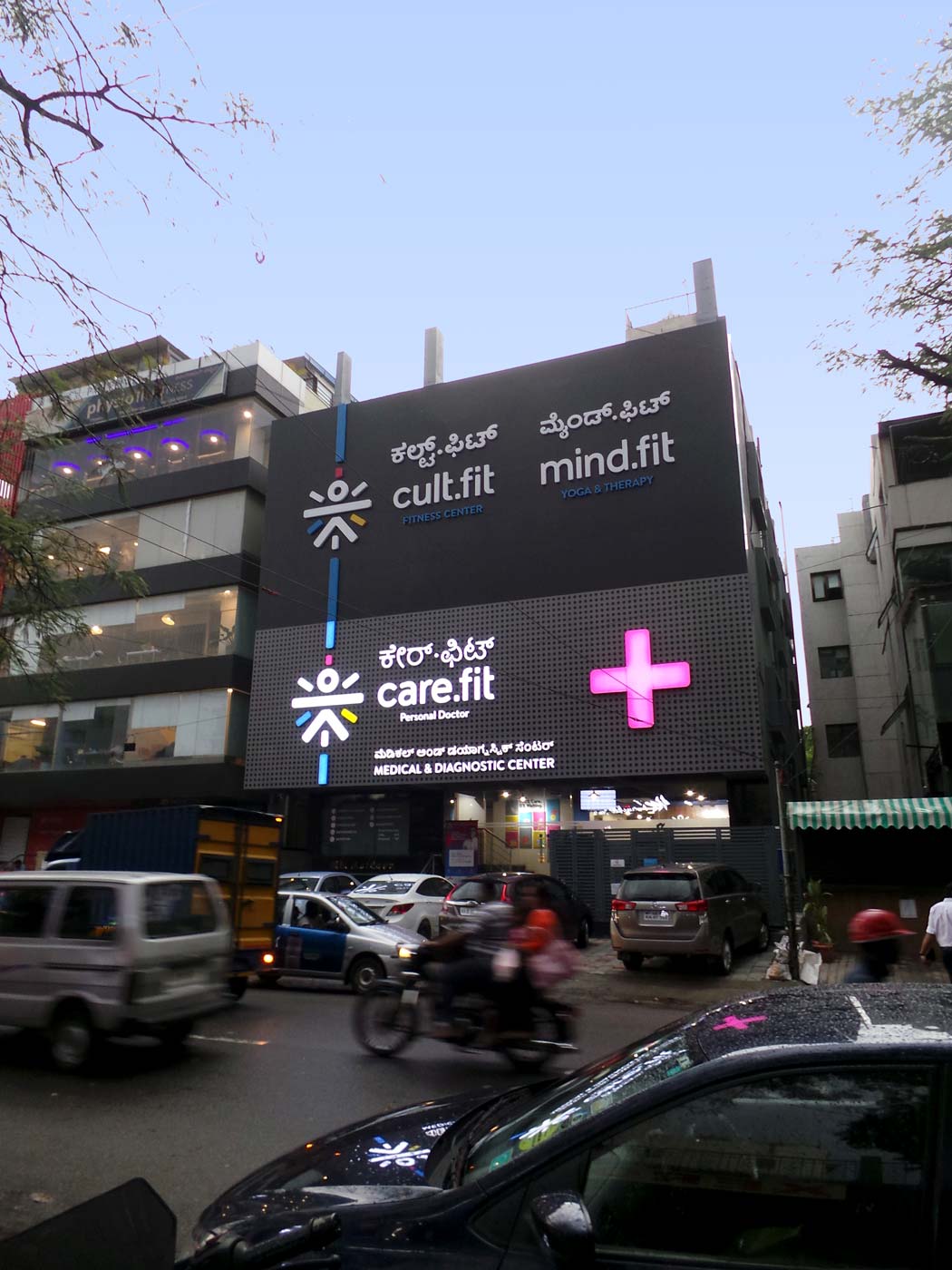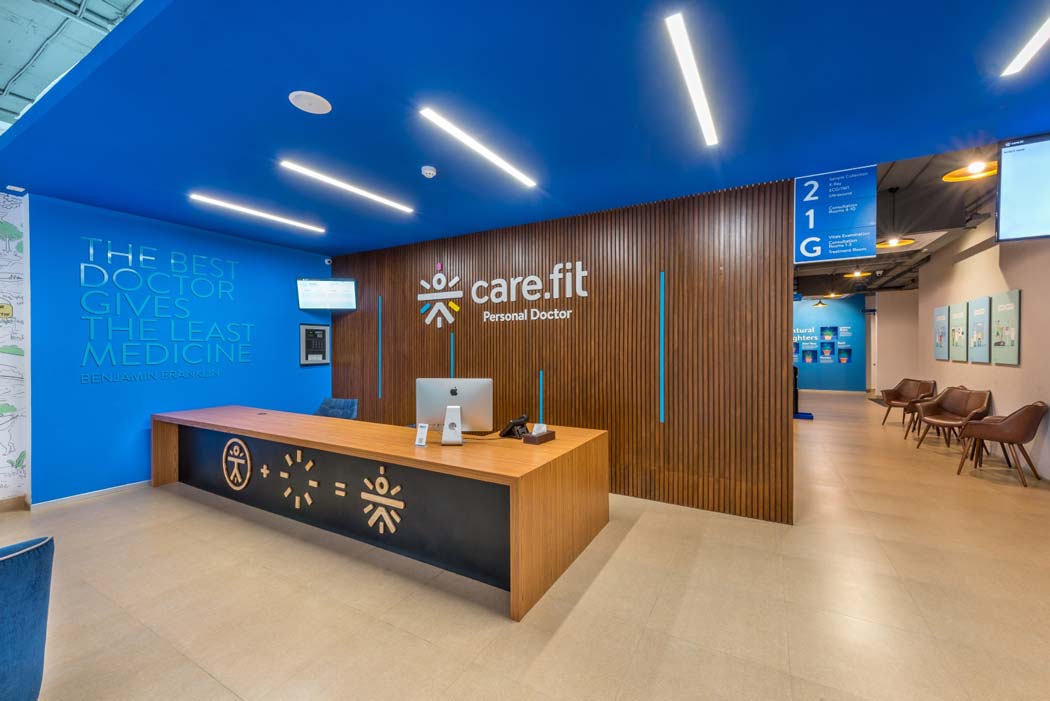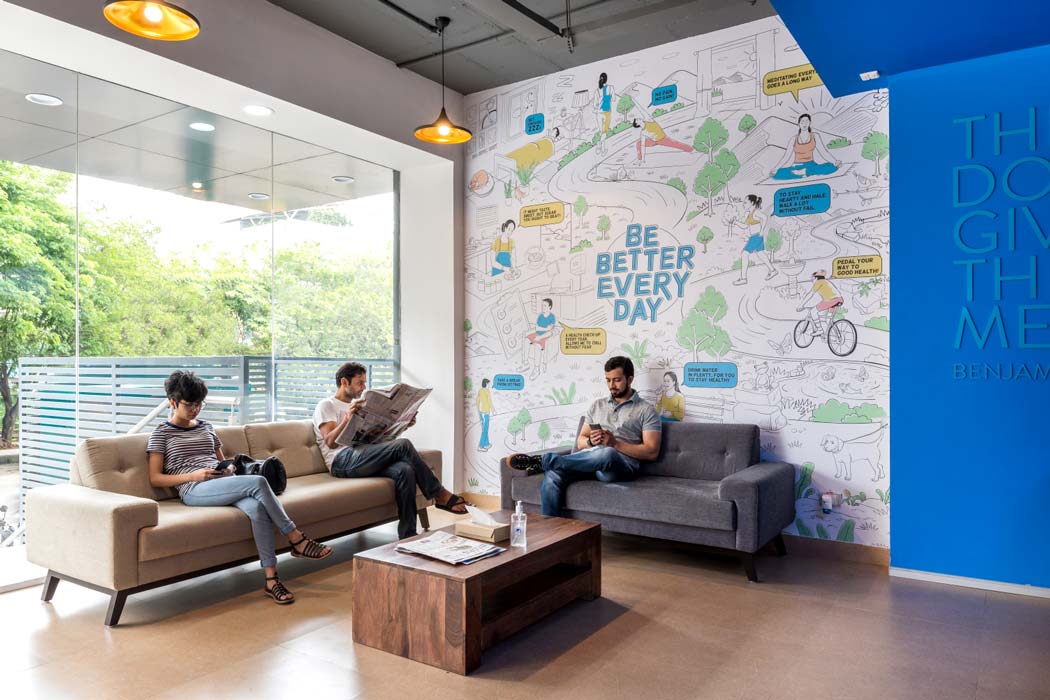 The facade we solved by ensuring that a lot of the inside of the centre could be seen from the outside without putting up film on the glass. This created an element of curiosity. 

The reception was created with the theme of a 'cool and funky start-up office'; a modern day workplace with light-hearted communication, colourful graphics and comfortable furniture. 

The facade design was conceptualised to ensure that the centre stood out and was noticeable from far. We wanted it to be clear that the space was a medical centre and hence the most prominent aspect of the facade was a medical 'plus'.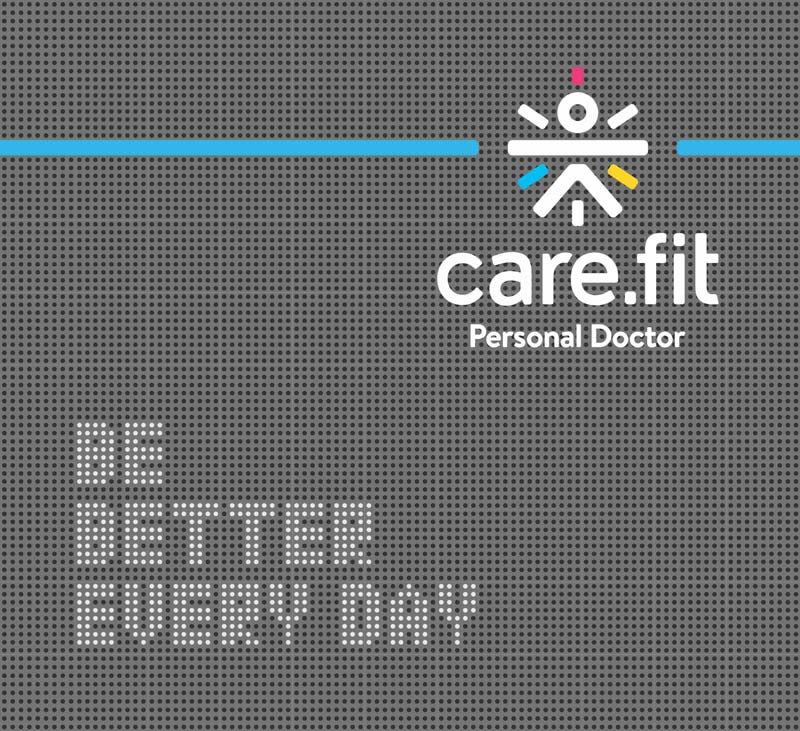 Care.fit's famous tagline is 'Be better everyday'. The company believes in lifestyle changes and long term gains. They advocate a holistic approach to healthy living. We represented the philosophy with a hero illustration that communicated this in a visual manner. 
Check out our other healthcare case studies here.
Care.fit believes in lasting lifestyle changes and long term gains 
The Consultation Experience 
Each consultation room dispensed some lifestyle tips and advise to the patients. Each room had a theme around which the tips where given. However, the idea was not to preach but to inform; and that is why each piece of information was given in the form of a rhyme. The content was supported by simple and vibrant illustrations printed on 3D circles and pasted on a colourful wall pattern. 
"Doctor cabins are always so cluttered and uncomfortable. Full of free calendars, pens, etc they have got from pharma companies. It is depressing." – An insight from our research
Child Consultation Experience
Children tend to hate doctor visits. The experience in most clinics is scary and scars the young mind. We created a space that was friendly, bright, colourful and cheerful. We wanted kids to understand that a visit to Care.fit will make them feel better and not the opposite. 
Most hospital visits are frightening and end up scarring children for life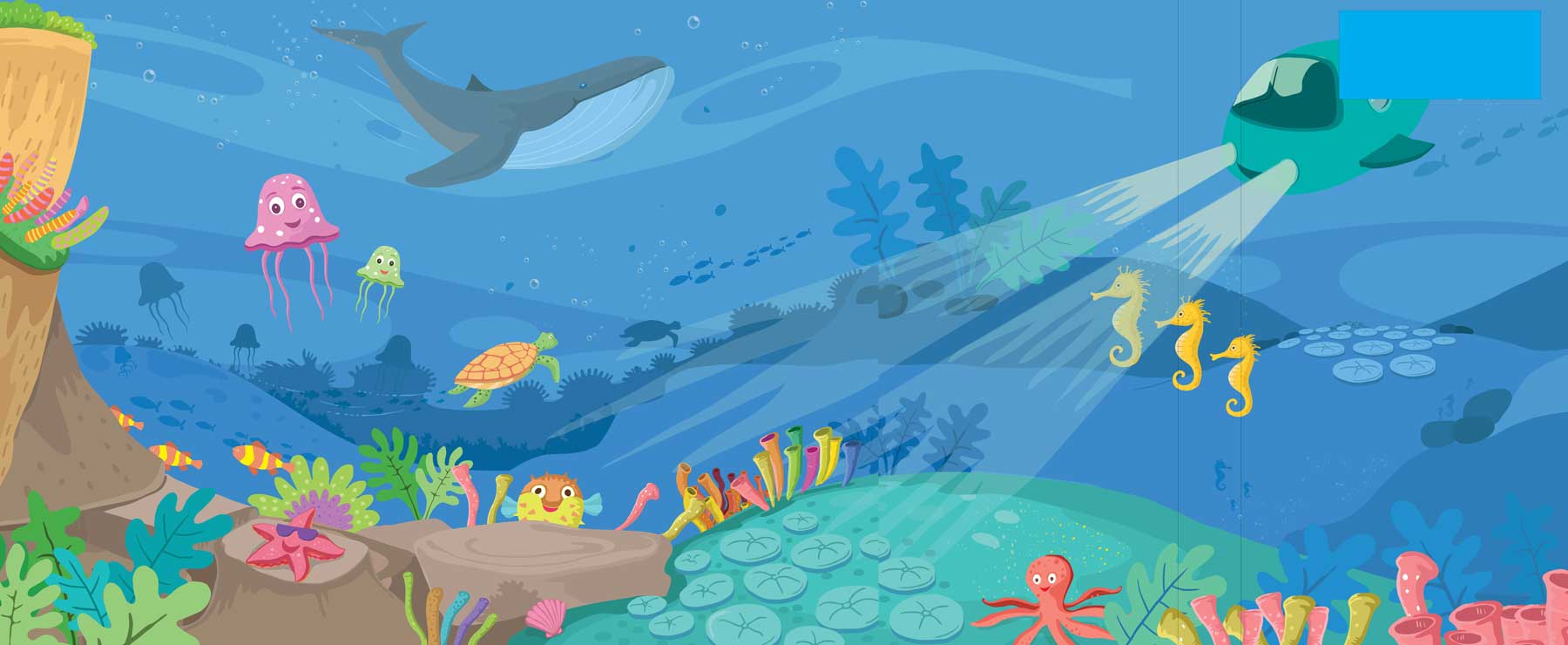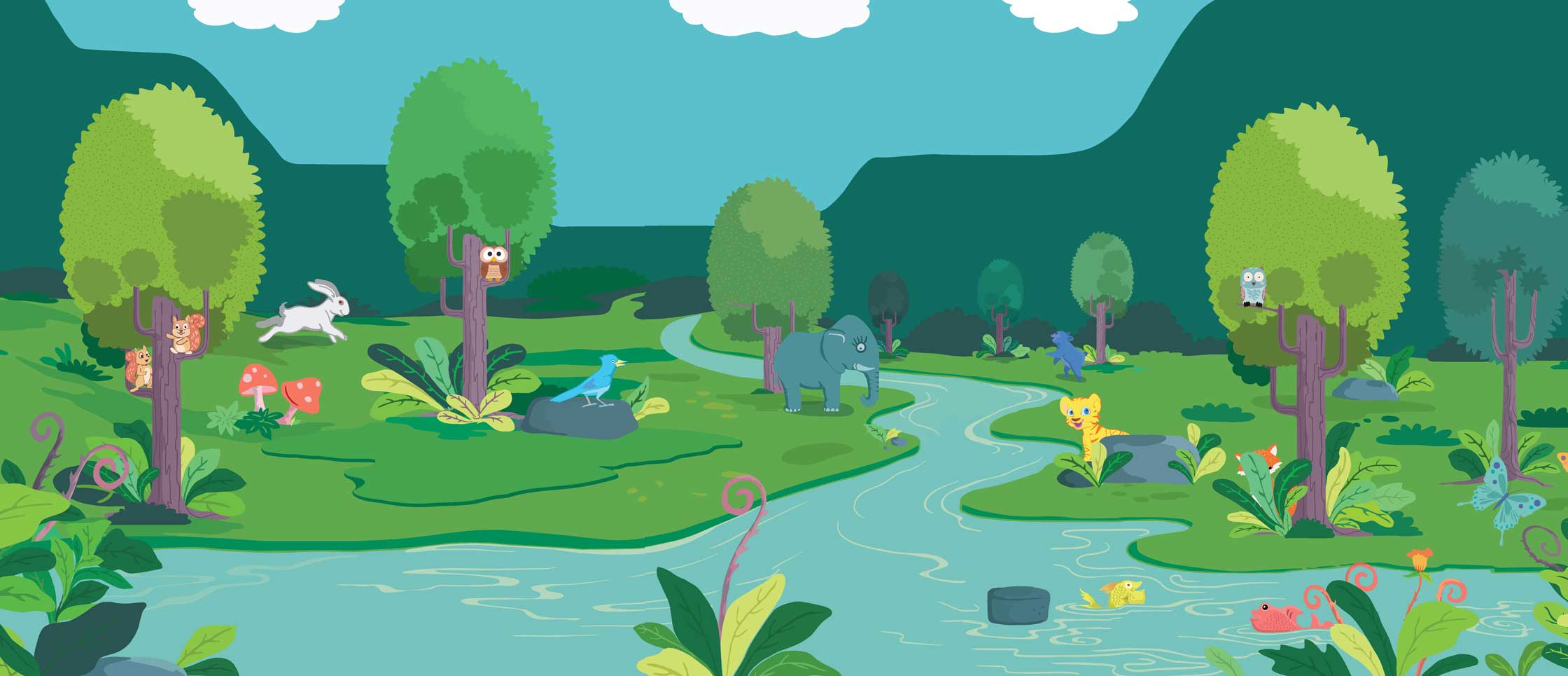 Treatment Rooms are spaces where patients could be most uncomfortable and anxious. Here is where the medical professional run tests and check for anomalies. That is why, here, we decided to use fun and interesting cartoons. Each cartoon was themed on a doctor-patient interaction and made the patient relax and smile. 
We wanted Treatment Rooms to cheer patients up and bring a smile to their faces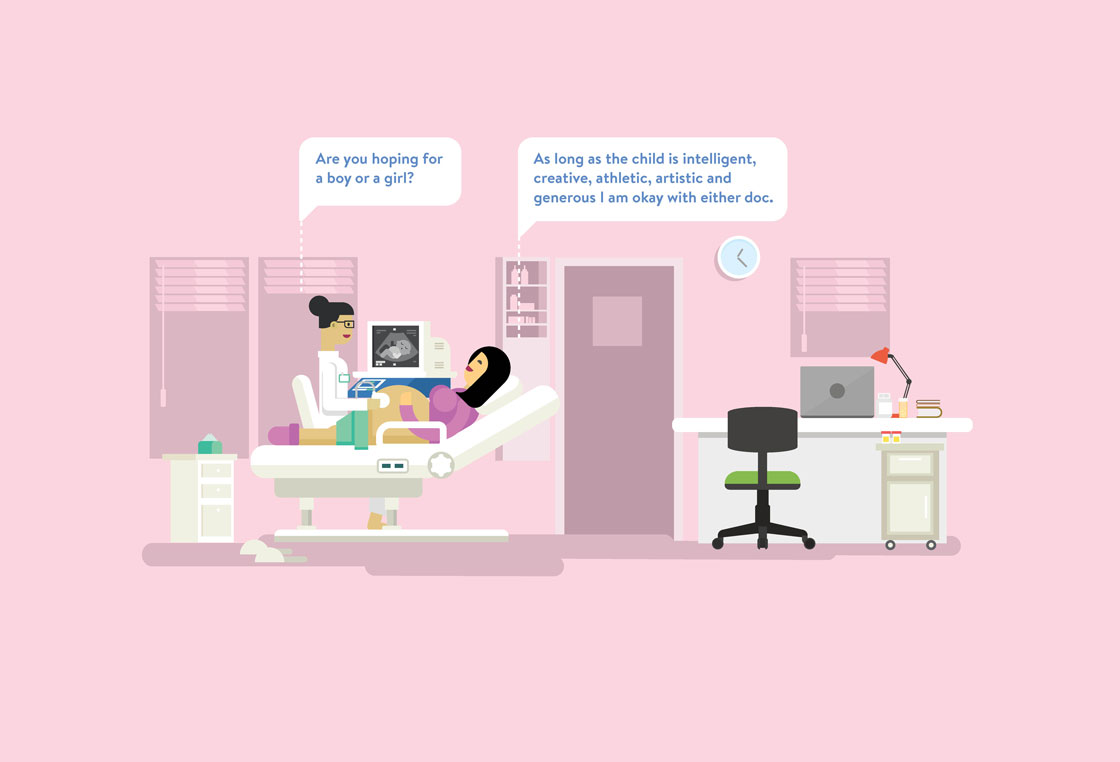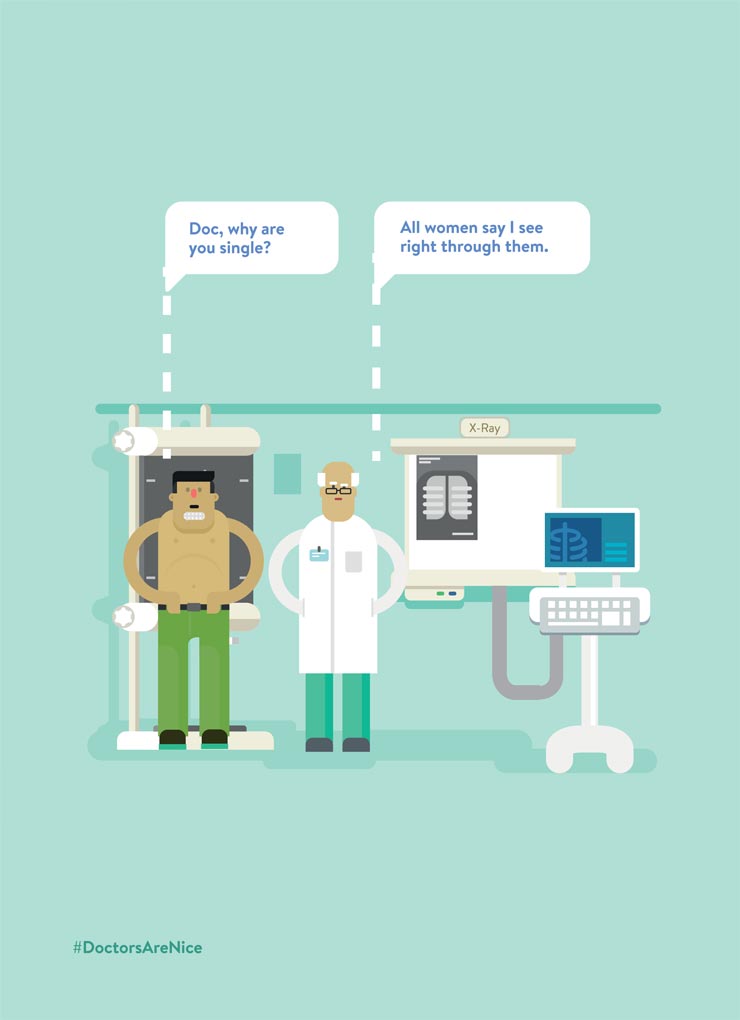 Posters - Humour + Information
The Way-finding Experience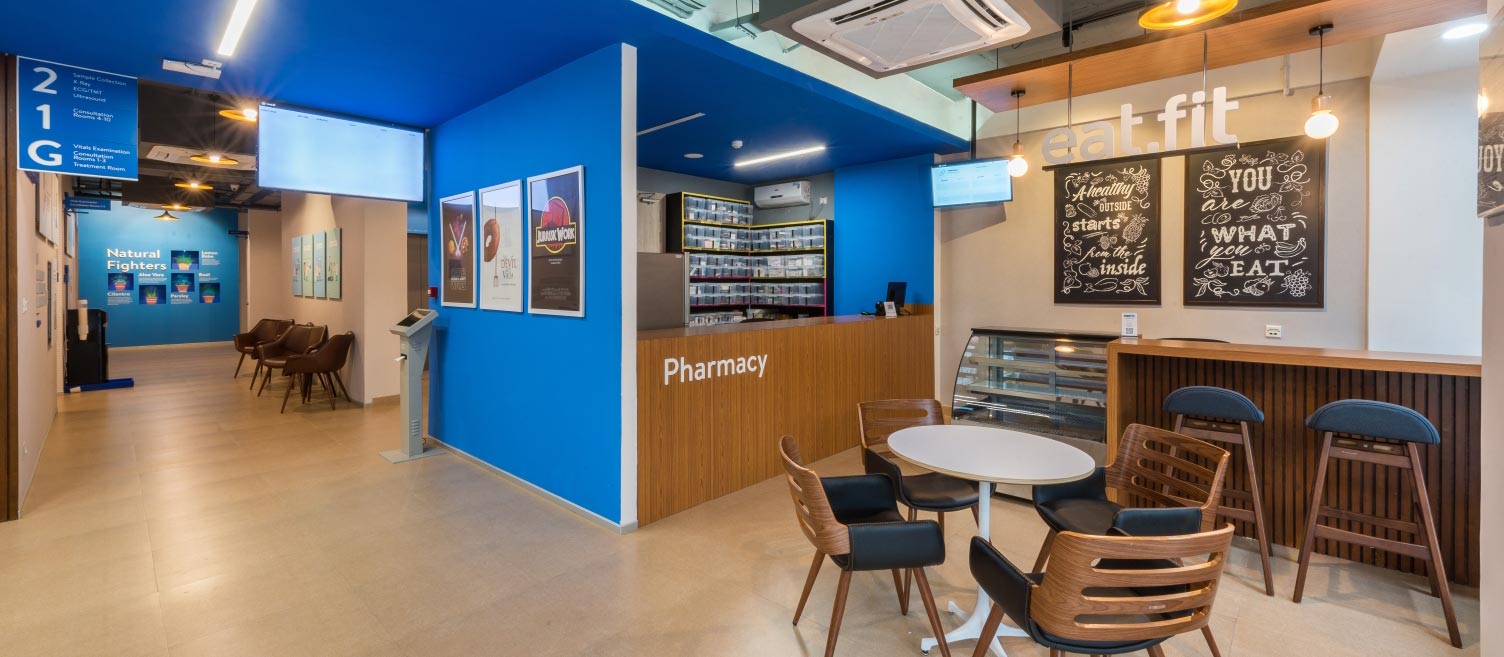 We created a medical space unlike any other. It had humour, colour, attitude and comfort.


Check out Care.fit here.