At Rezonant, we believe that creative thinking and thoughtful design have the potential to create massive impact in business and society. We bring value to our clients by uniquely combining business knowledge with strategy and design thinking to deliver tailor-made creative solutions.
We're a small team of highly passionate individuals who believe in creating kickass work. Each of us has our own methods, styles and thought patterns, but what brings us together is our unending thirst for a challenge and the desire to produce something great. Everyone here strives for greatness in their own niche whether it's writing, illustrating, designing, filmmaking or even conceptualizing smartphone apps, Rezonant is home to a mix of talent. Read on to find out how we do what we do.
Perfection is a constant endeavour at Rezonant. We are constantly trying to better ourselves. We hate it if clients are able to point out a single mistake. We never compromise on quality and look at everything we release through a magnifying glass. Our detailed review processes and multi-layer feedback systems honed over decades of experience allow us to constantly delight clients.
Get it right
the first time
We work extremely hard to wow our clients the first time we present an idea. We believe in the whole 'first impressions' psychology and constantly push ourselves to go the extra mile to get it right the first time; from the big picture to the tiny nuances. Our detailed research processes that include interviews, surveys and in-depth conversations with key stakeholders allow us to do this every time.
Big picture thinking allows us to become the client's in-house design and brand partners. We understand the project, the business, the market and the domain in great detail and not only pitch but also implement ideas that have far-reaching impact in the long term. . We believe that our success lies in our clients' success and not just in the completion of a project.
We believe any organisation is as good as its people. At Rezonant, we work with the most creative individuals in every field. Our constant motive is to find talented, self-motivated individuals who bring skills & values and add a new lens of perspective to our madcap craziness.
We believe in putting the needs of the clients first, making sure every requirement is met with an excellent output. Doing the right thing doesn't just stop at our clients, it extends to our colleagues and collaborators. We like to play clean. We like to let our work do the talking.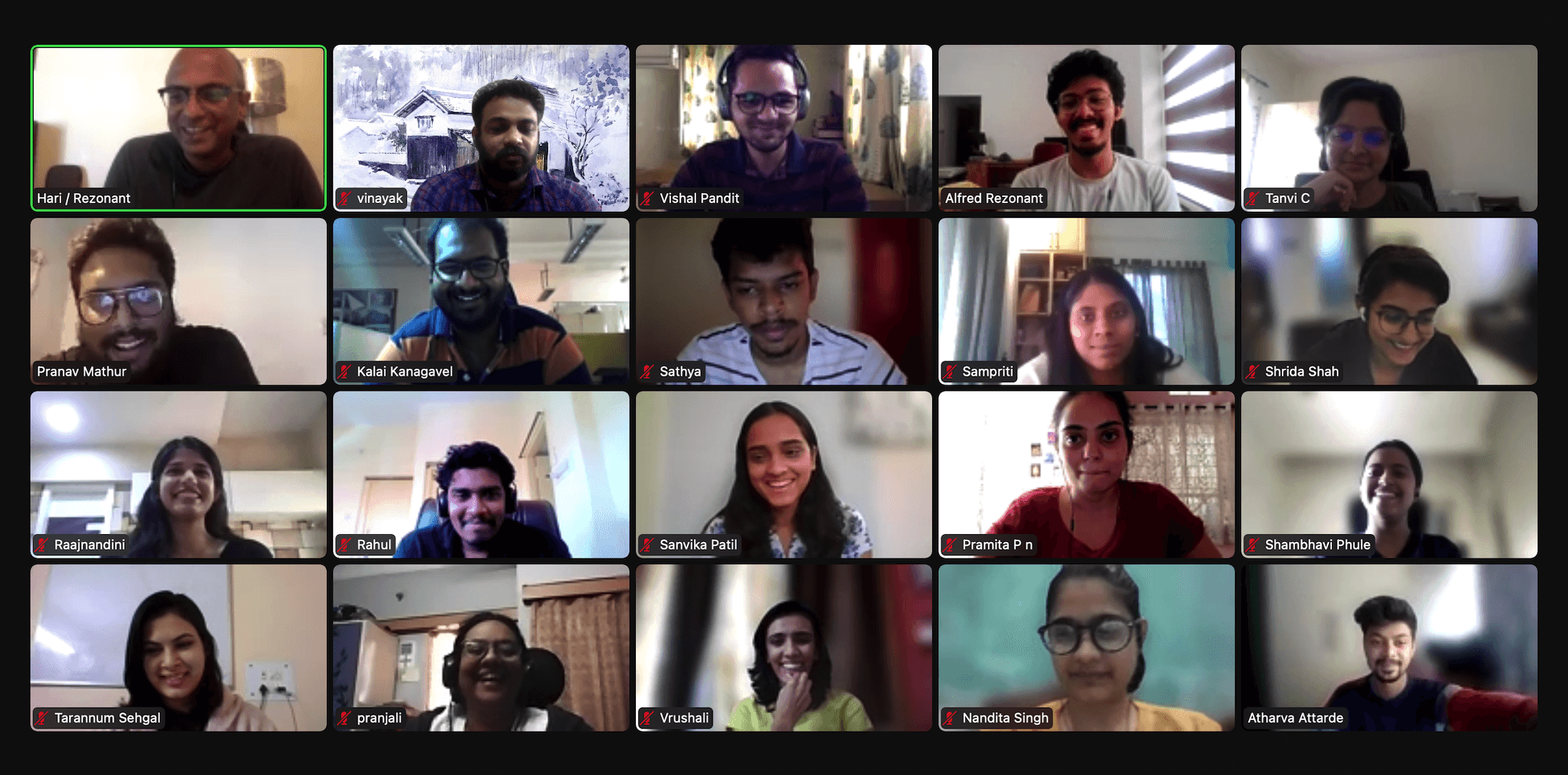 The kind of work we like to do
At Rezonant, we believe in doing work that's strategic in nature. We like to be a part of something with potential, which gives us enough room to stretch our legs and give it everything we've got.
We want to work on projects that break boundaries and reach for the stars. Projects where sky's the limit and where greatness is inevitable… with the right effort of course!
We like to see ourselves as harbingers and heralds; incessantly producing original work, potent enough to create a bang that will resonate the world over.
The work we do must always teach us something new. It could be anything! We believe that every step we take is forward and it is only through our work that this is possible.
Passionate people + Great clients = Impactful work
We're a small team of thinkers, designers, writers, illustrators, makers, researchers and entrepreneurs.
We believe that everyone is creative. Our team comprises of different talents, from detail-oriented designers, to out-of-the-box thinkers, eccentric writers to versatile illustrators. We are overall, a passionate and headstrong group of individuals.
We've had the pleasure of working with some
of the best organizations in the world